---
Fresh Off the Press...
---
Also find me...
---
Because I Care - A Free Gift for You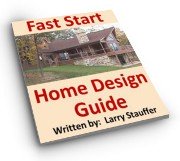 Jump-start your dream home planning by claiming your "Fast Start Home Design Guide" below. Simply fill out the following form...



---
A Few Comments:
---
"Thank you! Received the plans yesterday. They look great. We will definitely recommend you. I'm so excited now to have a visual. We'll have you out when it's all done.
Take care and God bless."
- Tommy & Christine
Mohnton, PA
---
"In my line of work I build both log and conventional homes. It can be difficult to find someone who can draw prints for both styles. I received a flyer in advertising Larry's Home Design. I was planning to build a house for myself and decided to try Larry's that way I could guage whether I would use him for my clients. I was very impressed and since then Larry's Home Design draws prints for all our customers."
- Marvin Fisher
Denlinger-Fisher Builders
New Holland PA
---
"…very easy to work with and quickly understood what we wanted. Larry, I truly enjoyed working with you on the design. You were always there to talk to me… It was wonderful for me getting to help the guys build the house and see it come to life. It was a lot of work, but now we can enjoy the fruits of our labor. Please stop in and see us whenever you can. You are always welcome."
- Keith Johnson
Bainbridge, OH
---
"Believe me, Larry & his ability to design structures, is a 'jewel in the rough.' I was referred to him as an experienced log home designer & I had either a log (or log slab) home in mind. I contacted Larry, & in no time, had plans & the specifications. This was to the last nail & piece of siding.
Larry's work is reasonably priced & excellent quality. He knows builders & suppliers who can have you in 'front of the fireplace' in no time."
- James E. Vaughan
Groveport, OH
---
Larry,
... Thanks again for your help with these. You have been by far the best designer we have dealt with, both communication wise and product quality wise. Everything I have looked at had been excellent. Keep up the good work.
- Thanks Gary
Crockett Log Homes