"Want a Friendly, Personal Guide in
Your House Plans Search?"
Here's what a recent house plans seeker had to say (via unsolicited email on file in my office) after asking us a specific question regarding his personal design and building situation:
Thank you for all the information and the quick response!

I am waiting to have my elevation surve[y] so I can make a decision as what I will be required to build.

Thanks again and I love your web site. One of the best ones I have checked out on the internet.


Regards,

M. M. (from Minnesota)
Welcome to "Larry's House Plans Guide!"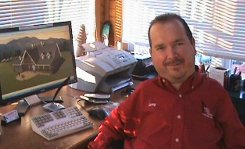 Over 24 years of helping scores of people just like you (from all walks of life with all kinds of practical needs and unique desires) achieve their goals with both custom residential floor plans or in-stock yet efficient house plans have taught me that the success of the end result lies in the quality experience of the journey itself...
If you're reading these words it means you are still actively hunting for those "match made in heaven" house plans to bring your new home to life. And that is good.
However, if you've been looking for any length of time you've probably come to realize one thing - there is no such thing as the home design "Holy Grail." No one-size-fits-all solution.

Don't be alarmed by such a dramatic statement!

In fact, sharing that knowledge with you is for the purpose of giving you more control - not less - in helping you get exactly what you want in your quest.

You've come to the right place for that extra edge you've been looking for. The extra knowledge – given through a friendly voice of experience – that will empower you in making choices uniquely right for you in staying on track of fulfilling your new home dreams.
Do you want more than a home plans provider?

A personal touch can often make the difference between good and great in almost anything worth doing. Especially when it comes to planning a new home.
It's often a once-in-a-lifetime goal – so it pays to not only choose to work with those that are qualified, but with those who truly care about you and what you really want.
Keeping you safely on the trail… to the right house!

It can be a jungle out there when it comes to choosing what will help or hinder you. A large portion of valuable questions arise long before ever hiring a designer or talking with a builder.
Case In Point: You may want to consider some of the factors covered in this video as you plan for your new personal dream home...



Honest evaluation and plenty of information that is easily applicable to your situation is critically important to help you make the best decisions on this journey.
A friendly voice of clarity, safety and experience.
You get to directly tap into the design-rich experiences of over 15 years of my creating custom home floor plans for incredibly varying budgets to help people fulfill their much-anticipated dream of building their own home.
It is a personal honor having you here. Offering great house plans and helping people like you achieve your new home goals is truly my passion!
And I look forward to building a relationship with you as you zero in on everything you want your new home to be.
If there is anything I can help you with, or answer any questions, on your journey do not hesitate to contact me.
Enjoy!


---