"What Are Rustic House Plans?"
The Label Is Somewhat Subjective
The term "rustic house plans" is a very loose description based on people's personal tastes. If you live in a high-rise in New York City and you move out to Long Island in a modern looking two-story home with a stone front accented by stucco, you might think you are living in a rustic home. Another person who lives in a basic brick ranch home might think a decked out log cabin in the mountains with all the modern accessories is a rustic place to be.
You could interview a dozen different home designers and you would get a dozen different ideas for rustic house plans.
From This Designer's View
In my personal opinion, (see, here we go already) a rustic design includes architectural ideas that help the home blend in with its surroundings. My idea of a rustic house does not include vinyl siding or any form of plastic or manufactured material unless it maintains the appearance of natural or historical styles.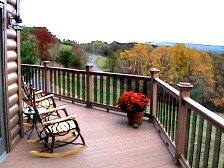 My idea of a rustic house does not include vinyl siding or any form of plastic or manufactured material unless it maintains the appearance of natural or historical styles.
For example: like the maintenance-free log siding and decking material on this home (left).
I know that all things are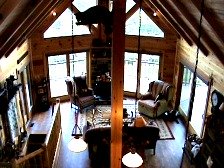 manufactured to a certain point, but I am mainly referring to the things that seem to grab people's attention the most within the first 10 seconds of looking at a house. I have seen rustic designs actually use real tree branches for the deck railings. The same theme was carried into the interior of the house for the stairway and loft railings.



Rustic house plans can fall into a number of different categories of design:

The Timber Frame Style
The most popular category would probably be timber frame house plans. This general design calls for the main structure being totally exposed on the interior. Posts and floor beams, along with rafters and ridge beams are the main focal points of timber frame house plans. The posts and beams are generally machined so they are square and easier to work with.
The Post and Beam Style Difference
Post and beam house plans are sometimes confused with the timber frame style. The post-and beam look can be achieved by using a standard frame house, a log house, structural insulated panels, or whatever exterior building method you can dream up. 
From a design standpoint, the posts and beams are used on the interior to support the floor systems and the roof. Some clients of mine have only requested the post-and beam look in their main living area, while others wanted it throughout the entire house. Without a doubt it is the less expensive version of the timber frame.
Food for thought: a video how to simply add energy efficiency to your rustic house plans

Pole Barn Style
There seems to be a very strong interest in pole barn house plans as well. I design a good number of pole barns throughout the course of a single year. They are very basic structures where treated posts are spaced at regular intervals around the structure. The posts are cemented into the ground and the part that is above the ground becomes the structural focus of the wall.
A good building crew can have a nice-sized pole barn under roof in about three days or less. The interior is totally unfinished in that time-frame, of course. A relative of mine actually lives in a pole barn house and you would never know it. They can be made rustic or modern, depending on your tastes.
Don't Limit Yourself
Rustic house plans do not stop there. Some designers have been creative and turned old barns into houses. It can be done with new construction as well. These designs are very unique and work well in a farm-like setting. I have not had the opportunity yet to work on a project like that, but I do have some designs of barns in my portfolio that could easily be turned into rustic house plans.
You are only limited by your definition of rustic.
Click here for "Stock" Ideas of Efficient Rustic House Plans if You Want Something Ready-To-Go
Or if You're Looking for Something More "Uniquely You" - Discover What These Custom Home Floor Plans Will Do for You


---

Return from Rustic House Plans to the Larry's House Plans Guide home page