"Want Simple Solutions to Log Cabin Floor Plans Challenges?"
Taming the Design Beast
Log cabin floor plans design is theoretically no different than designing a regular frame home. The structure and character of a log cabin is, of course, different in nature. However, I have had clients that actually had a fear of designing their log cabin floor plans until I mentioned that a standard floor plan can become a custom log home floor plan.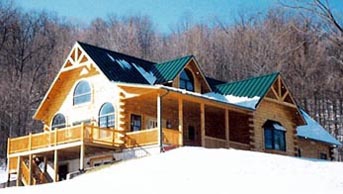 The number one reason people build log cabins is for the warmth of the character and the homey feeling. And a few design challenges need not stand in the way of that - they must just respectfully be considered.
Structural Challenges
Designing log house plans was the main thrust of my design business when I started it. There are several things to look out for when you first get into the basic design of your log cabin. In order to keep the feel completely natural, the main support beams and posts of the floor and roof systems will very likely consist of heavy timbers.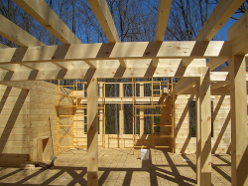 There are exceptions to the rule, but they are usually few and far between. For example, if a certain design calls for a large roof span then it might be completely impractical to use a heavy timber. In those certain cases using a pre-engineered, manufactured beam makes a lot of sense.

Structural Solutions
Now before any of you die-hard traditionalists start screaming at me and sending hate mail, let me explain. Any pre-engineered, manufactured beam can easily be finished off with natural pine boards to totally hide the beam itself. The end result is a warm, natural looking, beam that has much more strength than a heavy timber cut straight from a tree. log homes floor plans with huge open spaces do not allow for anything else except manufactured beams for the necessary support.
Plumbing Challenges
I think I can safely say the vast majority of log cabin floor plans have at least one bathroom upstairs. Why is that so critical in your design? Well, all bathrooms have plumbing coming down through the floor system. Most log cabins have exposed, timber style floor joists with only 2 x 6 floorboards on top of that. That design instantly becomes the finished ceiling for the first floor, and the finished floor for the second floor.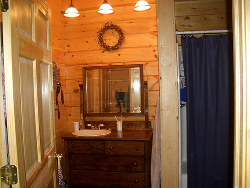 This begs the question-where does one hide the plumbing?
Plumbing Solutions
There are several different options to this problem. The easiest, and most common, way to avoid any open plumbing in your first floor ceiling is to position a second-floor bathroom above a first floor utility room or some space that is not used by guests or visitors. Then the first floor room directly below the second floor bath can have a ceiling that is finished off with pine boards or drywall.
You will need to look elsewhere on this website to find out what the other options are for making a second-floor bath plumbing work well on your log cabin floor plans. If this is your first time for designing your own plans, then a log cabin floor plan kit will be a great asset to you.
A Fitting Finish
Do not let log cabin floor plans intimidate you. Like I mentioned earlier, there is really no difference in the form and function.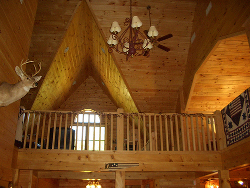 I would be honored if you allowed us to guide you through all the aspects and technical things of designing your log cabin.
The frontier spirit may not be as pronounced as it used to be, but I think most of us would still be quite happy and willing to enjoy a log cabin lifestyle on a quiet piece of woodland somewhere.
Follow the dream!
Click here for "Stock" Ideas of Efficient House Plans if You Want Something Ready-To-Go
Or if You're Looking for Something More "Uniquely You" - Discover What These Custom Home Floor Plans Will Do for You


---

Return from Log Cabin Floor Plans to the Larry's House Plans Guide home page