"Are 3D Floor Plans Really Worth It?"
Options Abound
Since the introduction of 3D floor plans in the home design world, the possibilities in this sector of the industry have taken a giant leap forward. There are many levels of 3D plan design. Do not assume for a minute they are all the same. I have seen some high-resolution videos of a home plan that end up being very impressive and expensive.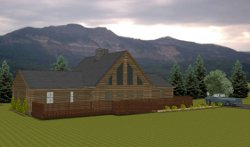 3D Log Cabin Retreat

I have also seen lower grade, static 3D floor plans that can be just as effective in getting the design across to the homeowner for a lot less money.

The Benefits
I think it is a great design tool. I also think it is overrated to a degree. That may sound kind of contradictory, but let me explain. As the homeowner, if you cannot clearly visualize in your mind what your home is going to look like, it will definitely be worthwhile for you to get 3D images made of your dream home. It will help you pick out little problem spots in your interior decorating plan. It can also give you a better feel for space and questionable layout areas. Although not as perfect a representation of actually walking through your own home, it is indeed the next best thing. But even before deciding on which visualization tools are your best option, you may find value prepping your layout with these home design ideas. 
A Surprising Survey
I work for various builders. Some of them are mostly into new homes, while others strictly do additions and decks. I questioned them a while ago if 3-D plans would be helpful to them. They thought about it and even asked some of their clients. The answer that came back to me was rather surprising. Across the board (with only a few exceptions), it was a definite "No" - they do not need them. Most of my builder's clients were able to visualize, from the 2D plans, reasonably well what they were going to get.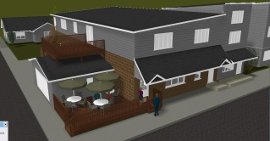 3D Preliminary of a Renovation Project

That may seem like a strange response considering all the 3D plan options that are available today, but I want to give you the whole, balanced picture.

The Builder Perspective
Builders themselves also typically have little use for working off of 3D floor plans. From experience that goes with the territory they know exactly what they're looking for when they look at a standard set of house plans. They want the wall locations, window and door locations and sizes, overall dimensions, cross-sections, straight 2D elevations, and various framing plans. 3 dimensional plans do put the "wow factor" into an individual design, but they have very little working information that is valuable on the job site.
The main exception, however, that builders do request them is if they realize that their client would definitely benefit from the enhanced visual effects. 
The Shifting Demand
Lately it seems as if there is a different trend taking place though. Projects are getting more expensive and clients want to see, in a full visual scheme, what they are pouring their money into. It makes perfect sense if one is investing hundreds of thousands, sometimes millions, of dollars into a dream. 
Front & Rear 3D Renderings of a Church Building Project

The simple reason most people turn down 3D floor plans is because they get their ideas out of magazines or home design books where a 3D image was part of the advertisement. They like the front view of the house, but the floor plan is not even close, so they hire a custom designer, like me, to get them exactly what they want. The imagery can take a hit because of this apparent disconnect. 
Making the Final Decision
When it's all said and done, the value of 3D floor plans is in the eye of the beholder. I will gladly provide 3D options for any homeowner desiring the extra visual clarity – but I don't push it. They take a lot of time to create, and time equals money. For some people, that extra cost is better spent upgrading a certain feature of the home. For others, they wouldn't build before seeing renderings as real as possible.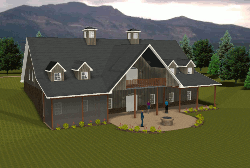 3D of a Retreat and Banquet Facility

Just keep in mind that 3D floor plans aren't limited to only full home views. If you only want to do a certain interior part of the home because you cannot visualize it you can singularly have that area created.
In the end, honestly evaluate your visualization style. If you could use the extra insight then don't even hesitate. Compared to the overall value of your new home - and the reassurance of knowing what you'll be getting - the cost itself is the least important consideration.


---

Return from this 3D Floor Plans page to the House Plans Guide page
Go to the Larry's House Plans Guide home page