Having Trouble Finding Properly Adapted Handicap House Plans?
How does one accurately define handicap house plans? This answer is as varied and unique as the people who inhabit them. There is no right or wrong answer. (Keep reading to find out the personal story behind this page!)
Even Standard Home Design Preferences are Elusive
You can get a dozen different people in a room and ask them one design question about what they like best in a normal custom house design, and you might get two or three people that agree on one feature as their favorite. Some people might agree that a fantastic kitchen plan is what makes the home, while others might say it is the master bedroom/bathroom suite. The responses could go on and on based on personal taste.
"Ramping Up" the Confusion
Now let's throw a monkey into the room and stir up the debate a little bit. What are your favorite features in "handicap house plans?" Now we would definitely hear some interesting responses! I would be willing to bet you could have a hundred people in the same room and be lucky to come up with even two or three people agreeing on the same thing.
Let's dig into the basics of why that is the case, and why the term "universal house plans" is not as universal as the mainstream home design 'culture' would want you to believe. I do follow design guidelines when it comes to building code requirements, but then when it comes to personal tastes for my clients conventional design wisdom goes out the window. No matter how strange an idea might be, if it is structurally sound, I will incorporate it into my client's home. I mention all that to say this...
Where Universal Design Falls Short
Each person that has some form of handicap is uniquely different in their own way. Due to that simple statement alone, the word "universal" comes to a screeching halt shortly after the designer widens the hallways and doorways on a "universal house plan."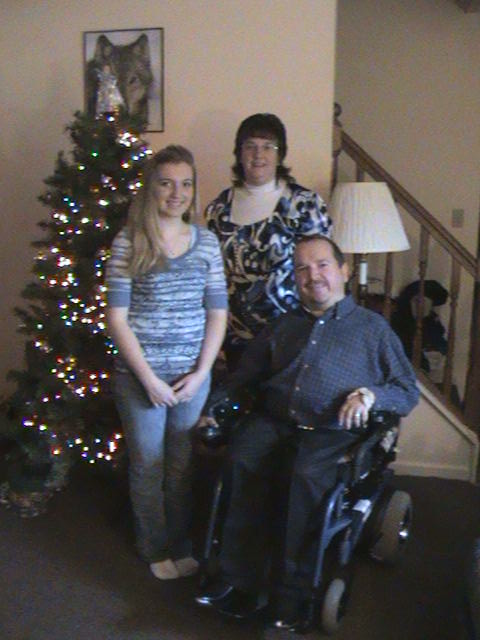 My family enjoying our renovated handicap-friendly home
Sure, the wider doorways and hallways are nice, and highly recommended, but immediately after that is where the "individual handicap house plan" starts. What works for Joe's disability can be a major pain for the physical challenges Jim deals with.
The Unique, Self-Invested Qualifications that Benefit You
May I be so bold as to use myself as an example? I am a small-statured guy: 5'-4" tall and tipping the scales at just over 120 pounds. My wheelchair is classified as a young adult size. My chair fits through a 30" doorway. I really function well at table heights that are 29 ½" to 30" above the floor. (If you plan on having me over for dinner, measure your table first! Just kidding.) I have a built-in grooming table in my master bedroom suite that was custom made. It is where I shave, brush my teeth, etc. My leg clearance minimum is only 4" less than my optimum table height.
Personal Needs Dictate Truly Workable Design
All of those measurements are dictated by my body size and wheelchair style. I have wheelchair friends who are giants compared to me. Their arms are much stronger and more agile than mine. Their physical strength allows them a wider range of table and countertop heights where they can still function. Since they are larger, their leg clearance requirements at tables are a little higher than mine. If I were to design a house for each of them, they would have very different requirements based on the individual style of their daily routines.
What Mainstream Disability-Friendly Design Overlooks
Most handicap house plans I researched simply show the basics I mentioned earlier. Some designs even show steps. That is okay at one door, but ramps are an absolute necessity for easy access. I know some elderly folks who have difficulty with steps but have no trouble shuffling up a ramp.
Important Side Note: Something I have trouble finding on other handicap house plans sites, is the mention that ramps have to meet certain requirements if you need to acquire a building permit for your project. For every foot of forward travel there should be only one inch of rise. That specification is recommended by the International Residential Code for handicap house plans. There is an allowance, if space is limited, to allow one inch rise for only eight inches of forward travel, equaling a 33% reduction in required ramp length.

Overcome Your Design Challenges with a Hand of Experience
Any unique design request in your handicap house plans is not something to be embarrassed about. I live the lifestyle so I know how much of a personal asset custom features can be.



Plus, I have the necessary training to make sure your design meets or even exceeds the ADA (Americans with Disability Act) guidelines for residential use. Click here to contact me personally and get your custom handicap house plans underway.
Let's make your life or that of a loved one more
                         comfortable and more enjoyable starting today!


---

Return from this Handicap House Plans page to the Universal Design House Plans page
Go to the Larry's House Plans Guide home page