50 Beta Testers Wanted to Help Evaluate and Fine-Tune a Very Special Home Design Course...

(FREE Participation & You Keep the Whole Course Plus the Bonuses!)
I'll keep this short and to the point because it just a minute you can click through to the actual page containing specific details about the course itself.

Sitting in the "dusty digital corners" of our business is a special labor of love we have named the "Home Design Made Easy Audio Course." It was originally written and recorded in-house for the benefit of the bold desiring at some point in the future to design and build their own home.

The core concept of the entire course was to tackle the most common questions and challenges our clients had faced throughout the process of designing and building their "personal dream" homes. All for the purpose of helping others following in their footsteps navigate similar troublesome situations more smoothly and without having to pay as painfully for the experiences we helped them through.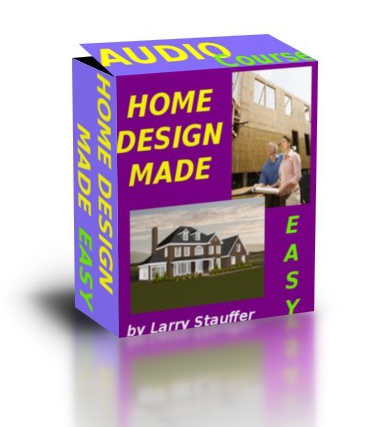 Unfortunately, we never fully got to launch the project's "ready for the public" edition.  Even though we prepared varying downloadable formats and an order-ready website the course was never rolled out for widespread use within the home building industry.  Other projects and day-by-day operations took precedence and this highly relevant, but unused information just sat there...

No more.  Enough is enough!

We've decided to make this course top priority and want to get it into the hands of those who need it the most: individuals courageous enough to lay out their own money to follow their dreams and build their own home!
However, in addition to the wealth of information we've put together over the years from personal experience of helping new homeowners, we wanted to make sure as wide an audience as possible is included and will benefit from this long-awaited fully public release.
And that's where you come in...
The goal is to recruit 50 people (individuals, couples, or families - and hopefully some from each category) and share with them The "Home Design Made Easy" Audio Course in its entirety as it currently is. Including ALL the original Bonuses!
Those selected will have 60 days to review The Course and work through each of the study lessons. An additional 30 days will be granted - if necessary - to document their progress and answer the questions provided upon their acceptance into this beta testers program.
Here is the link to review the current Course details: www.homedesignmadeeasy.com
If this sounds like something that can help you in your own quest to designing and building your own home - and you are interested in participating as an enthusiastic contributor - then please fill out form below for consideration.
Notice: In the event that all the positions are already taken you will be notified with a special offer of major savings on the current Course, and opportunity to be a "first reviewer" of the revised edition when it is released, and possibly an additional unannounced "Thank You for Your Interest" Bonus that is still being considered.
Thank you for checking out the special opportunity and we wish you the best in your personal pursuit of bringing your dream home ideas to reality!
And if it works out in your best interest we look forward to being a part of that process and journey with you...
Best Wishes,
Larry Stauffer
| | |
| --- | --- |
| | PS. One final request, if it's not too much trouble to ask? If you find this opportunity an interesting possibility and know of anyone else who would also like to participate please send a link to this page directly and take advantage of the social sharing links below. Thanks in advance! |