How To Get The Most Value From Your Log Homes Floor Plans
Over the years I have met several future log home owners who thought log homes floor plans were an unnecessary thing for building their new log home. I am not kidding! Their mindset was such that they did not want to spend the money on a well-designed floor plan and instead use the money they were saving towards the construction costs.
What happened? Their misguided way of thinking cost them more money due to stalled construction processes and decision-making time wasted on the job site. (Just as a side note, those homeowners lived in an area where a building permit was not required. They were literally able to build without plans and get away with it – in that sense anyway!)

The multiple benefits of plan design as a process
My point? Think of the money you will spend on your log homes' floor plans as an investment and not an expense. Your return on investment will start as soon as the construction process begins. The general contractor will know exactly what needs to be done for every phase of construction before construction begins. He will be able to accurately schedule all the sub-contractors for each different phase of the project.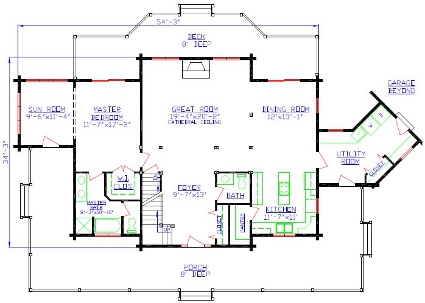 Now let's back up just a little bit and check on the benefits of log homes floor plans for you, the owner. Not only does an accurately drawn floor plan help you visualize the overall scope of your home, but it also breaks down each usable space and their positions within the floor plans. Your floor plans will not only help you decide if the traffic patterns flow nicely, but they also clarify things like, "Will my grandmother's antique hutch fit along that wall or do I need to expand the dining room a little more?"

A question like that, and perhaps a thousand more, are ones only you can answer. There are some questions you will only receive answers for after an accurate set of preliminary plans has been drawn and submitted to a builder.
Paying attention to your budget helps prioritize your design
What is your budget? Most people are often surprised they are not able to get more home for their money and I do not mean to be negative by saying that. I recently met with a couple who is in the planning stages of a new home of about 1800 square feet. The husband asked if $75-100,000 dollars was going to reach. I replied that new homes generally cost $100 per square foot in our geographic location and then I paused. It took him a few seconds to do the math and then he realized he was looking at $175,000 to complete his home.
In this case, getting even a rough idea of their costs will help them re-evaluate their priorities before I spend too much time on a dream they might not be able to achieve.
Benefiting from preliminary planning stages
Preliminary plans also help point out any structural design problems. In some cases, the log homes floor plans need to be redesigned because a major bearing point of a roof system is smack in the middle of the living room. This then becomes my job to point out some design changes that maintain the look you want while also keeping your floor plan loosely within the original layout.
Think of your log homes floor plans as the first of many stepping stones you will step on during the entire process.
The real foundation of your new log home
Let's fast forward to the point where you and your spouse have analyzed your design to the point of going crazy, and the complete set of construction plans are in your builder's hands.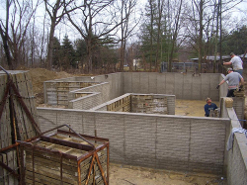 He has all the construction details and plumbing and electric diagrams he needs to get a very accurate price for you in writing. Your bank approved your mortgage and you signed a contract with your trustworthy builder.
At this point, your log homes floor plans are no longer just floor plans. They will become the guide that directs the entire construction process from the first scoop of dirt being dug to the last shingle on the roof.


Helping you achieve your dreams
A well-thought-out set of log homes floor plans will create a very positive and enjoyable building experience for you and your general contractor. It is my job to make sure all the i's are dotted and the t's are crossed, so to speak. I have had the privilege of working on a design that from the moment the contract was signed with the builder to the point where the owner was moving in, only three months had passed. Everyone involved was extremely happy.
There is no reason for that not to be your story. Let's make it happen!


---

Return from Log Homes Floor Plans to the Log Cabin Floor Plans home page
Return from Log Homes Floor Plans to the Larry's House Plans Guide home page